'40 Ways of Being (a Woman)' is an electro-acoustic piece for soprano, cello, organ, and electronic soundscape, composed by myself (Wilma Pistorius) and Andrea Guterres in 2022.
Is is performed by Viola Blache (soprano), Lisi Hubmann (organ), and Wilma Pistorius (cello).
The instrumentation of the piece (organ, cello, soprano, electronic soundscape) combines the historical colours of the organ with the modern sounds of electronics. The cello forms a link between old and new, and connects the more spacious sounds of organ and electronics to the soprano.
Musically, the piece is written in a layered way, with melodies weaving through a background soundscape. The large form of the piece is based on a succession of different moods, each connected to the storyline: contemplative/vulnerable, ritualistic/dark, raw/powerful, uncertain, depressed, afraid but brave, playful/flirtatious, sassy, magical/wondrous, joyful/sophisticated. In non-musical terms, I would describe the piece as atmospheric, dark, and playful.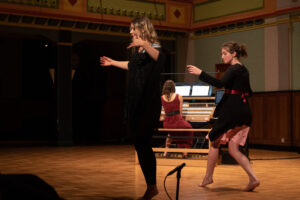 '40 Ways of Being (a Woman)' is a piece about real-life things, based on personal experience: the vulnerability and curiosity of exploring your identity, being powerful and owning your space, the pain and anger of being pathologised for being free, threats of sexual violence and wanting to not be afraid of those, the joy of having a body, the fun of being sexual, the excitement of expanding one's sexual orientation, and finally, being unapologetic and uncomproposingly authentic, and embracing your personal power.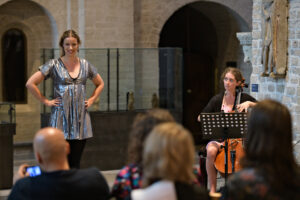 '40 Ways' is a piece about identity: discovering and inventing myself as a woman, reconnecting with important aspects of myself that were lost because of negative experiences.
I wanted to make something that reflects what a woman is really like, as opposed to the unrealistic images sketched by our culture. In representations of women, there are mostly two types: the suffering woman who is beautiful and gets in trouble because of it; who isn't sexual of herself but has sexuality inflicted on her. And there is the woman who is independent and powerful, maybe even sexual, and depicted as unnatural, unfeminine, and monstrous. This is not a realistic representation. The human experience is so much more varied! I wanted to show what being a woman is really like, from my own experience, in the hope of offering a voice of sanity and woman-positivity.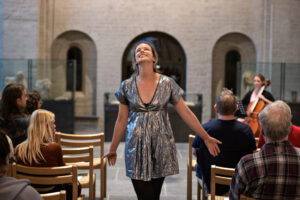 As such, '40 Ways' definitely as an activist undertone to it. It feels a bit subversive in that it contradicts the cultural message of what being a woman is about, and offers something more personal and authentic. I think it is very important to do this. We need to show people what being a woman is really like, so that others can have the freedom to simply be themselves.
Female empowerment is important to me in the work I make. It is of central importance to me in my life, and this is reflected in my work. But I don't always have the opportunity of expressing this in a piece: sometimes I just have to make a piece about something else. I enjoy that too. But the works that really feel close to the bone, that I enjoy making most, always contain some aspect of feminism.
I hope that this piece will give audiences some positivity, and the idea that being a woman is something joyful, something to celebrate, instead of something oppressive or burdensome (as we are often led to believe). I would also like to invite my audiece to reflect on their ideas about gender and what those are based on, and perhaps arrive at a fresh perspective. The title has a tongue-in-the-cheek irony to it: there is not one way of being a woman, and many more than 40!